Next Thursday over at the 239 Collective Gallery in Newark NJ there is going to be an art show dedicated to the world of design. That's reason number one you should come out. Number two is to support me because I'm in this show.
This show has a huge list of artists, and with a show this big you can only say thank you to the curator Rebecca Jampol for all the work she's doing and has done.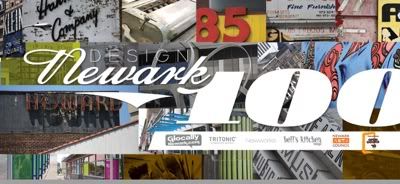 Newark, NJ is connected to a rich background of design, architecture, and craft that continues today in various forms.
Today, the city is filled with numerous designers of all trades working to show the City of Newark in a positive light or to better the area. The exhibition, Design Newark will display 100 designs created for Newark or by Newark-based designers. The exhibition will capture every facet of design including graphic, industrial, product, architecture, fashion, digital and more.
The breadth of Newark's design has been fostered by its unique status as an international city, housing among other groups, the largest Brazilian and Portuguese populations in the world outside of those countries. As such, we are opening the exhibition to international designs born in these countries that gives Newark it's cultural texture.
Designers Include:
Ada Caro, Adam Weinstein, Ade Tugbiyele Sedita, Agrest and Gandelsonas Architects, Ala Rustom, Alex Leonard, Ana Paula Rodrigues, Andres Jimenez, Andrew Maishman, Anker West, Arterial, Ashley Villapaz, Axis, Barat Foundation, Ben Douglass, Brian McGrath, C+C Architecture, Charlee Swanson, Chris Gee, Christian Prasch, Christopher Kirwan, City Without Walls, Claire Weisz, Daisy Currais, Damon Rich, Dana Koenitzer, Daniel Patrick Helmsletter, David Smiley, Eliot Maltby, Erin Shaefer, Felix Heidgen, Ferrous Design & Research, Folk Engineered Handmade Bicycles, G Tects, Gallery Aferro, Gambert Shirts, Gina Michnelli, Gladys Grauer / Black Woman in Visual Perspective, Glenn Smith Studio, Hanini , HTDSTUDIO DESIGNOFFICE, Hugo Franco, Inbar Kishon, Interboro, Iquan Worthington, Jacob Gerson, Jake Dorler, Jason kurzweil, Jay Tsai, Jess Knierim, Joe Tutalo, John Gann, John Kudos, Julia Krantz, Jypsea Eclectic Handcrafted Leather Goods, Kareisha Questel, Kati Vilim, Kedar Studio, Ken Smith Landscape Architect, KJ Kim, Lisa Smith, Luigi Tartara, Lyanne Dubon, M|RUIZ design, Mabel Wilson, Madeline Ruiz, Manuel Miranda, Marie Thompson, Marielly Casanova, Mateo Pinto & Carolina Cisneros, Matthew Gosser, Michael Saltzman, Michael Sorkin Studio, Morris Adjmi Architects, Natalia Roumelioti, Ned Drew, NEWW, Nick Kline/Glassbook Project, Nicholas Giuliano, Ninapilar, Nunzio G Esposito, Otis Berkin, Pentagram Architects, Peter Cocoziello, pod design + media, Preeti Sodhi, Rafael Patalano, Rhodeside & Harwell, Richard Abad, Robert Gonzalez, Roy Rosado, Samer Fouad, Sarah Williams, St. Phillip's Academy, Stan Studol, studio mk27, Susan Cliff-Silva, Suzanne Anan, Terreform, Tom Eichorn, Tritonic, A Creative Agency, Troy Therrien, Troy West, Tshombe Knight, Victoria Marshall, Zach Goodman and more!
Hosted by GlocallyNewark.com & Hell's Kitchen Lounge
Curated by Rebecca Jampol
September 23, 2010 – December 3, 2010
Opening Reception: September 23 7 pm – 11 pm
After Party 11pm – 1am
Music provided by the PARTYMONSTER himself
Part of Newark Arts Council's Open Doors Tour
ABOUT 239 COLLECTIVE
The 239 Collective is both a dynamic event space and collection of like-minded creative companies. The Collective team includes development and design company Newworks, creative agency Tritonic, and premier blog GlocallyNewark.com. Each Newark based company adds their own element to the table, joining forces to provide a progressive gallery/event space.