i better see everyone at this tomorrow. this show is too amazing to miss.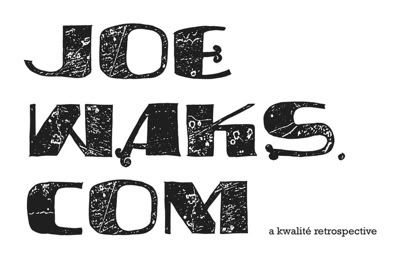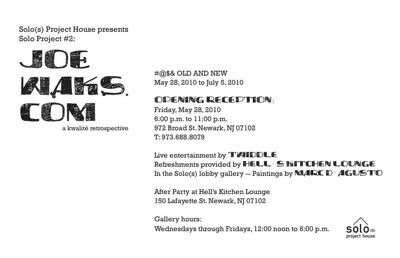 Solo Project #2: joewaks.com: A Kwalité Retrospective

#@$& OLD AND NEW
May 28, 2010 to July 5, 2010

Opening Reception:
Friday, May 28, 2010
6:00 p.m. to 11:00 p.m.
972 Broad St. Newark, NJ 07102
T: 973.688.8079

Live entertainment by Twiddle
Refreshments provided by Hell's Kitchen Lounge
In the Solo(s) lobby gallery -- Paintings by Marc D'Agusto

After Party at Hell's Kitchen Lounge
150 Lafayette St. Newark, NJ 07102

joewaks.com: A Kwalité Retrospective represents the zenith of an unheralded career for Bayonne, New Jersey artist/bon vivant/Stratego enthusiast Joe Waks, a largely self-taught painter who harnesses his dueling passions -- politics and popular culture -- to manufacture layered images depicting the seamy underbelly of our hyper-plastic consumer society. And don't you worry all you Waksaholics, there's a heapin' helpin' of new %&$@ in this show too!

Observant as a seasoned reporter, but more like a half asleep rent-a-cop pulling an all-nighter down at the Piggly Wiggly, Waks seldom leaves home without his "Little Pad of Ideas," in which he illegibly scrawls audacious commentaries and observations about America's past industrial grandeur and current status as a nation coming off a three-day bender of Popov Vodka, filterless Camels and Dinty Moore beef stew. These jottings are the grist of his mixed-media renderings.

"Waks is hardly deserving of a retrospective, let alone a table in the corner at a 'starving artists' sale at one of those sleazy motels that rent rooms by the hour on Routes 1 and 9 in Elizabeth," said Warburton Z. Pfeiffer, Visiting Distinguished Professor of 20th Century Art at the University of Hawaii-Hilo. "He nevertheless is embracing this opportunity to spread his special brand of cockeyed optimism to a public starving for pork rinds and some good ol' Jersey-brand common sense."

At an early age, Waks mastered the use of those really, really good smelling magic markers, but has only resumed his artistic pursuits in the past several years after practicing law and serving as an advisor to Garden State elected officials such as Bayonne Mayor Joe Doria, Governor Richard Codey and U.S. Senator Frank Lautenberg. He currently is a principal in Millennium Strategies, a Caldwell, New Jersey based grants consulting and government affairs firm.

Waks was a 2008 New Jersey Print and Paper Fellow at the Brodsky Center for Innovative Editions, Rutgers University and has had numerous solo and group show at galleries such as the International Print Center of New York, Redsaw Gallery, City without Walls Gallery, Jajo Gallery, NJIT Gallery and Gallery Aferro in Newark and 58 Gallery in Jersey City. He will be having a solo show entitled "McLandscapes" at Newark's Index Arts opening in December of 2010.

Waks' paintings are collected by royalty and serfs alike in the U.S. and Canada and hang in numerous establishments, including the well-known restaurant, Aquagrill, in lower Manhattan. He is also in the permanent collection of the Jersey City Museum.

______________________________________________________________________

The paintings of Marc D'Agusto will hang in the Solo(s) lobby gallery. D'Agusto's work engages ontological layers of reality in the human condition by linking the corporeal, psychological and the divine.

His work thrives through contrasts of dark and light interwoven by tensions between creation and entropy inherent in the human condition. D'Agusto believes it crucial to layer these contrasts, uniting content, form and subject matter to expose the complexities and mysteries of life. He exposes these layers through the use of techniques and media that cause viewers to see through the veneer of the painting consequently subverting illusionistic imagery.

"I use ambiguous narratives as a vehicle to point toward truth but like water poured over hands, the significance is experienced momentarily before eluding one's grasp but leaving behind the suggestion of its presence. I do this through a repeated process of building and layering material while simultaneously pealing and scraping it away" – Marc D'Agusto

He has since been a career artist with over 18 years experience as a graphic designer, art director, web designer, and corporate educator, working with various organizations in New York, New Jersey and Philadelphia.
______________________________________________________________________

Studio Artists: Marc D'Augusto, Ninapilar Daniels, Daniel Patrick Helmstetter, Rebecca Jampol, Kimberlyn Johnson, Josh Knoblick, Terina McKinney and Kilroy Savage.

The Solo(s) Project House is located at 972 Broad St. Newark, New Jersey and is open to the public Wednesdays through Fridays, from 12:00 noon to 6:00 p.m. Admission is free.