tomorrow night.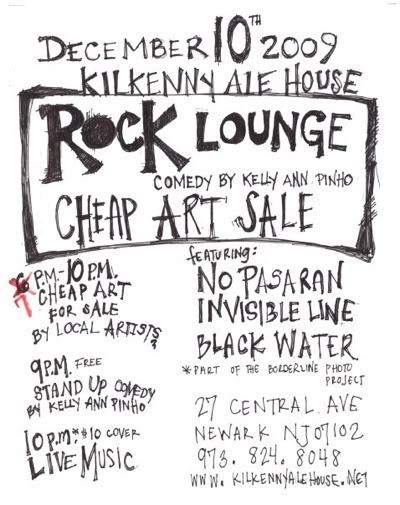 This Thursday! Join Kilkenny Ale House for an evening of Art, Comedy and Music!
Kilkenny Ale House
(upstairs)
27 Central Ave.
Newark, NJ. 07102
Thursday, December 10, 2009
7:00 p.m. till close
7:00 p.m. – 10 p.m. KILKENNY CHEAP ART SALE
Start your night off by supporting local artists and knocking out some of your holiday shopping! Prints, photographs, t-shirts, crafted goods and much more all made by local artists.
Artists include: Fernando Barreto, Shameful D, Peter Dobil, Matthew Enger, Mark Enger, Janina Fisher, Rebecca Jampol, Jypsea~Eclectic Handcrafted Leathergoods, Scott Modrzynski, Tyler Olsen, David Oquendo, Kelly Ann Pinho, Luisa Pinzon, Antonio Rendeiro, Ellen Whitney and much more.
(If you are interested in putting artwork into the Kilkenny Cheap Art Sale there is still time! Call the below contact number asap.)
9 p.m. Stand up comedy by local artist Kelly Ann Pinho!
10 p.m. Opening of Kilkenny Rock Lounge
Borderline Revolution Concert
All Cheap Art Sale buyers get free Admission!
$10 general admission
Featuring:
Invisible Lines
¡No Pasarán!
Black Water
a self defense demonstration + hoop performance and activism
The Borderline Photo Project
Prudent activists focus efforts on educating and empowering women. Amnesty International, musicians and students of human rights at Rutgers are supporting the Borderline Photo Project by raising funds and awareness. The project, beginning in January 2010 near the border of Burma in Thailand, will empower refugee women to tell their stories through photography. Photography is a useful way to teach them not only technical skills but also that their voices and their experiences are valuable. It is a powerful way to educate women to step outside of their prescribed role in society and take command of their own stories.